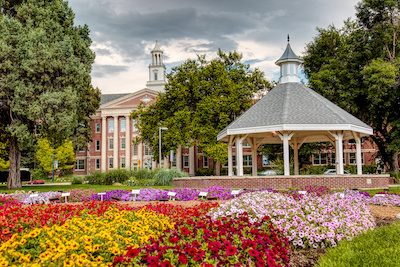 It's been years since I was a potential Colorado State student, traveling in from Texas to decide if I wanted to spend the next four years of my life amongst the mountains and the brisk Colorado air. Eleven years later, I'm so glad I did: living in Colorado has allowed me to work in a variety of industries, make life-changing friendships, and experience the true beauty of the world.
Okay, okay: let's get real here—you're still just a high school student (or the parent of one), and you're trying to find out if Fort Collins is truly a good fit for you in all aspects of life. I get that. However, the only way to truly experience FoCo is to hit all the right spots.
Where do you go first? As an alumni who has been posted up in the Choice City for so long, I can tell you my favorite spots (that are family-friendly) for you to truly get the Fort Collins vibe; places that will make CSU almost immediately feel like home.
Hike the A
It's a Fort Collins tradition for a reason. There are other iconic spots in town-- Horsetooth Rock's epic trail up to the actual rock comes to mind—but the A is low-intensity, has a variety of terrains, and allows you to take in the entire city of Fort Collins from a birds-eye view.
Reserve Your Spot To Join An Old Town Food Tour
Visiting Fort Collins and want to know of all the great restaurants for your CSU Ram? We highly recommend including our Old Town Food Tour Signature Food Tour in your plans. This is the perfect way to see what each of our Old Town restaurants offers so you know what is around the city. Tours cost $65 for each adult, and you can add on the drink sampler ticket for another $20. During the three-hour guided walking tour, you'll visit five Old Town Fort Collins locations to sample food and drink delicious cocktails while learning more about the history of downtown Fort Collins. Purchase your tickets here and learn more about our food tours by reading this story published by our friends at The Coloradoan. (CSU students and their families can receive an additional 10% off their total tour reservation as well! Use promo code CSU10 for your savings!)
This chicken shop has a lot of personality, a love of local music, and hilarious cocktail mugs (for those in your family who are of age). Grab some tenders and a side of waffles and appreciate the chill vibes that personify this city.
It's one of the oldest restaurants in Fort Collins and not only does it have a ton of history, but its kitchen also serves up the most delectable treats in town. Whatever you order, don't forget to share a cinnamon roll with your family and grab a mug for your collection before you leave.
City Park, while a few minutes away from Old Town, is a hub of activity in the city. It's a great place to unwind with a frisbee, let the family dog get its wiggles out, or just spread out a blanket and watch the sunset (I recommend grabbing an Illegal Pete's burrito and bringing it to the park with you while you take in the scenery). In the summertime, City Park hosts a ton of events including one of my favorites, the FoCo Food Truck Rally, where you can sample the best local grub the city has to offer.
Located right in the heart of Old Town, this is a great place for the parents to get a few cocktails at Coppermuse while the potential students relax with some mini-golf. The Exchange is a beautiful corner of the city that offers a lot of great, faster options—Chik'nCone, La Piadina—and don't forget dessert at Old Town Churn before you leave.
Deciding where to go to school is a huge decision, but I've never looked back on my choice to be a CSU Ram, even all these years later. If you want even more fun details about the city, book an Old Town Food Tour for more food, history, sneak peeks of great businesses, and more!