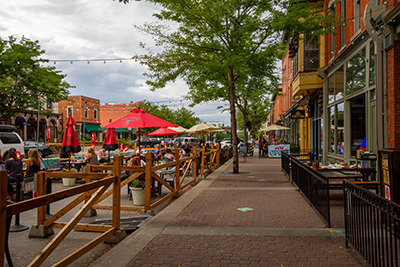 I've made my absolute favorite memories on Linden Street: taking photos in the Surfside 7 bathroom with my buddies on a late Friday night; sharing a kiss in the Pour Brothers photo booth; attending some of my favorite shows at The Coast with a pickle shot or two thrown in for good measure. Linden Street, aside from the main drag of Old Town, has got to be one of my favorite corners of the city.
The Linden Street renovation project has been in action since 2021, and while we're excited about the changes to come (turning Linden Street into a 'convertible street' where we'll be able to gather during downtown festivals and events), there have unfortunately been a few downsides. For one, the road has gates and orange barriers in front of it, making it look like the street-- and its businesses—have closed for good. They haven't! Linden Street remains open to pedestrians, and our favorite businesses there still need your love.
Kristy Wygmans of Pour Brothers Community Tavern said, "Linden Street has always been a jewel and we hope that it just keeps getting better! There is still time to tell our city leaders what you would like the future of Linden to look like by emailing cityleaders@fcgov.com." She, along with other Linden business owners, encourages you and your friends to frequent the local businesses on that street to show your support, and to entice you towards Linden even more, I've put together a list of my favorite Linden Street activities. Some of these can be completed all in one evening: this weekend, perhaps?
Grab a giant slice at Surfside 7
If you haven't tried the giant pizza at Surfside yet, what are you waiting for? Famously needing two plates, these slices resemble the New York style locals love BUT, thankfully, they let you top it with various untraditional food items including cream cheese and jalapenos. That's my favorite combination, by the way.
While you're at Surfside, don't forget to snap a 'Surfie' in the bathroom. The old tradition says that this includes showing off your derriere, but locals know that all you must do is flash a smile and get out quick: people need to do their business.
Grab a signature cocktail and photo at Pour Brothers
Pour Brothers is known for its craft cocktails, delicious tater tot combinations, and of course, that famous photo booth. The best way to solidify a Friday night memory is to take your drink into the booth and snap some photos with your friends: the next morning, you'll be glad you did.
Pickle Shots (and a show) at The Coast
The Coast took over The Downtown Artery not too long ago, but already they've put on iconic shows and DJ nights that have been taking the Old Town scene by storm. My favorite recent show featured the Unlikely Candidates on the famous stage, but not only that, the lead singer visited with fans at the bar afterward and ended up buying me a pickle shot. Tart and delicious, this must be your next grab on Linden.
Snatch a bougie snack at The Reserve by Old Elk Distillery
Old Elk grabs a little help from their friends, the Welsh Rabbit, to create a truly stunning snack for even the pickiest downtown eaters: their spin on a charcuterie board. Featuring a delicious array of cheeses as well as Old Elk's own Bourbon tomato jam, have this with a classic Old Fashioned and you'll be one happy camper.
Reconnect with friends at Blind Pig Pub
My favorite part about Blind Pig Pub is the fact that this bar is huge—there's a ton of room to bring in a big group of pals and, even if the place is packed, you'll still find yourself able to have a productive conversation if you've only got a plus one. The menu is unique and interesting (Thai Fries, anyone?) and the drinks are on point: grab a classic Perfect Pig Margarita before your next destination.
Dessert cocktails at Elliot's Martini Bar
Whenever someone comes to visit me from out of town, I always take them to Elliot's Martini Bar. OR, if I'm finishing out the night with friends, I encourage everyone to stop here for a delectable dessert cocktail. Perfect for first dates, fiftieth dates, outings with friends, and more, there is literally a martini for everyone here: however, I always recommend the 'Lenny's Last Chance'.
BONUS: The next morning…rehydrate at Hydrate IV Bar
If you spent your night with pickle shots and cheesecake martinis, you're going to need a healthy recovery the next morning. Grab a greasy breakfast, but then head straight to Hydrate IV Bar for one of their specialty drips: like I said, for 'the day after', I recommend their Recovery drip (formerly called the Hangover IV Drip).
According to The City of Fort Collins, construction on the Linden Street Renovation should complete in July of 2022. Until then, grab your photo booth photos, your Surfies, and your pickle shots, and don't forget to tag @OldTownFoodTours in all the fun.
You can visit Pour Brothers Community Tavern, Ciao Vino, and other premier Linden Street restaurants by participating in our Signature Food Tour Libations Experience. Tickets are available now as we look forward to re-engaging the local community, and introducing visitors, to one of the best cocktail scenes in the country!