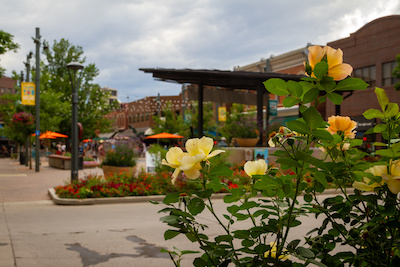 There is nothing like being in Fort Collins during event season. Because of our smattering of incredible local music acts, great food options and beer selections, the Choice City needs to be your choice this spring and summer.
Events help to make us feel more a part of the community, but 2020 and the pandemic threw a giant monkey wrench into our sense of togetherness. Now, though, you can look forward to some of your favorite music, film, and food festivals coming back better than ever in 2022…and let me tell you, it feels so good to feel almost normal again!
Set aside these dates on your calendar to truly immerse yourself in the atmosphere that sunny Fort Collins days provide and get ready for a memorable events season you'll never forget.
One of my very first experiences as a young CSU Ram was FoCo MX: I remember hitting every venue with my friends, watching the new music acts hitting the Fort Collins scene, and wearing my wristband for days afterwards. FoCo MX is an event for those in town who truly love local music and want to support their favorite acts while also discovering something new: after all, over 300 live performers will hit the diverse array of stages over the duration of the festival. The two-day event will take place on April 22-23 and you can buy your tickets and learn more right here.
April 16  on: Live Music Series at New Belgium Brewing Company
Beginning on April 16 and continuing every Friday of the season from 5-7 p.m., New Belgium will be hosting live music at the brewery alongside their delicious and iconic brews. You can see bands such as Guerrilla Fanfare and The Bergamot while you watch the sun set over the incredible lawn space out front of those historic metal tanks.
May 1  on: The Fort Collins Farmer's Market season begins
Local farmers and produce lovers alive are sure to be excited for this one: the Fort Collins Farmer's Market season begins on May 1 and continues throughout the summer at 1001 E Harmony Road. There's nothing like supporting local businesses and grabbing some great goodies for your home cooking adventures. Insider tip: look for small-batch honey at the event to support your local bees, too!
Formerly the Old Town Fort Collins Marathon, the Colorado Marathon is back and better than ever with a beautiful scenic run beside the Poudre River. Heads-up to runners: according to RaceThread.com, The Colorado Marathon course is one of the most successful when it comes to qualifying runners for the Boston Marathon. Woah!
May 10  on: The Fort Collins Food Truck Rally
Want to really experience Fort Collins in all its glory? The Food Truck Rally is the perfect place to do that. Happening every Tuesday from 5:30 p.m. to dusk, the Fort Collins Food Truck Rally welcomes dogs, bikes, and yes, people too, to come and sample the best that the city has to offer when it comes to food trucks and local grub. My personal favorite? That's a tough one, but I always find something to love at Waffle Lab. Grab a blanket and some friends, or even just a special date: this rally has something for everyone to love.
May 28  2022 Odell Small Batch Festival
One thing I certainly missed the most during the pandemic was hanging out and throwing a few back at a great beer festival, and Odell is bringing back one of our favorite gatherings at the end of May this year. The Small Batch Festival, where Odell will be pouring over 50 different varieties that include small-batch picks from their barrel system, is happening on May 28, 2022. Don't like beer? Their delicious side hustle, OBC Wine Project will feature 10 wines at the festival as well. Grab your tickets here.
The 4th of July in Old Town Fort Collins
For the past two years, we've been disappointed: no more fireworks in Old Town, and no more City Park celebration for Independence Day. This was always one of my favorite events. Usually, the city would book Colorado Swing, who would play old standards as the sun set over Horsetooth Rock. My friends and I would lay out a blanket on the grass and along with the rest of FoCo, we'd watch the incredible fireworks ring out over the town.
While I'm not sure if that exact celebration is, in fact, in the works again, fingers crossed: the city announced on their website that they're putting together a lineup for their 2022 Independence Day celebrations as we speak. Yes: this includes a parade!
We haven't even scratched the surface of the incredible events offered this summer in Fort Collins, but follow @OldTownFoodTour on Instagram to see what our locals have to say about everything you should hit this season, or schedule a food tour to learn about it from the locals themselves!