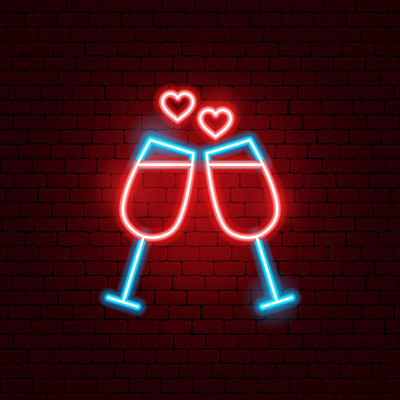 Since Valentine's Day falls on a Monday, the Old Town Food Tour team highly recommends making it an entire weekend filled with romance. Whether it's creating a staycation for you and your significant other or heading to Old Town for the holiday, there's so much to do over the three days.
If part of your plans includes taking a night where you make a fancy dinner and indulge in fantastic cocktails, you've come to the right place. We've teamed up with the experts from the Fort Collins Academy of Bartending to give you six Valentine's Day cocktail ideas that will set the right mood for the holiday. Below you'll find the ingredients, directions, and a picture of the cocktail to help you in your endeavor.
The Fort Collins Academy of Bartending is the only accredited private occupational school in northern Colorado to learn how to bartend and is here for all of your libation-related needs. All of their first-time bartenders start by taking Bartending 101. This course is designed to teach you everything you need to know when you first step behind a bar. You will learn 100 foundational cocktails, how to accurately and efficiently free-pour, different drink-making methods, as well as the safety and ethics it takes to be a responsible bartender.
After completing 101, the next course to further enhance your bartending knowledge is Mixology 201. This advanced-level course will get into the true spirit of being a craft-cocktail artist. You will learn the brilliant and beautiful history of craft cocktailing and how to create your unique cocktails using each of the foundational spirits to their fullest potential. This course covers everything from homemade simple syrups, the importance of garnish selection, to even creating your very own cocktail menu.
The Fort Collins Academy of Bartending offers private classes as well. The private lessons will be explicitly designed to fit your needs and what you want to learn. Signing up for classes with the Fort Collins Academy of Bartending is easy. Simply call them at 1-855-970-4TIP to enroll.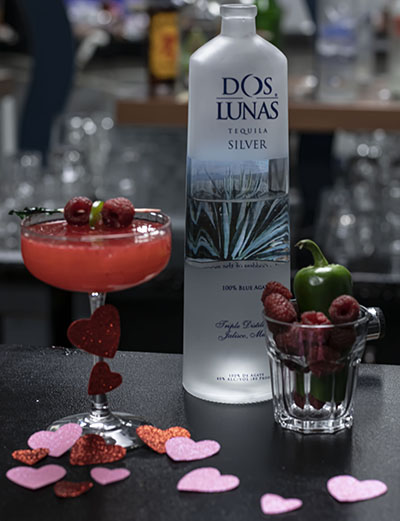 Burning Love - This vibrant pink cocktail is perfect for anyone looking for a little spice on valentines day. The sweetness of the fresh raspberries perfectly compliments the kick of the jalapeno. This cocktail is sure to liven up any Valentine's Day party.
INGREDIENTS
1.5oz Tequila
.5oz Triple Sec
.5oz Agave
.5oz Lime Juice
5-6 Fresh Raspberries
1-2 Slices Fresh Jalapeno
DIRECTIONS
Combine all ingredients into the mixing tin and muddle until the raspberries become like a jam. Add ice and shake vigorously until chilled. Double strain into a coupe glass with a hawthorn strainer and double-mesh strainer to remove seeds and pulp. Garnish with a raspberry-jalapeno flag.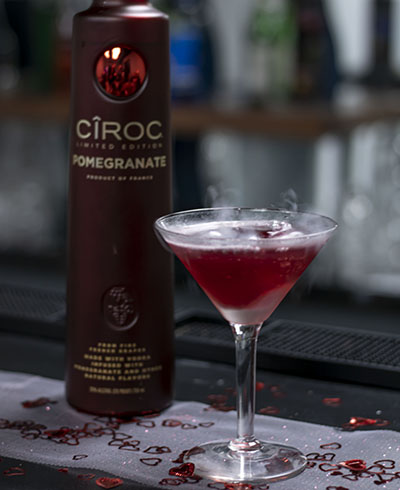 Love Potion #9 - This elegant martini is inspired by the timeless song by the Searchers. The cocktail by itself is deliciously tart with a sweet finish. Perfect for your valentine's day get-together. This magical drink can truly embody the word potion by adding a little bit of dry ice that will make the drink bubble and smoke right in front of you.
INGREDIENTS
1oz Pomegranate Ciroc
.5oz POMS Pomegranate Juice
.5oz Chambord
.25oz Lemon Juice
Splash of Soda Water
*Dry Ice
DIRECTIONS
Combine all ingredients except the soda water into the mixing tin with ice. Shake until chilled. Strain into a chilled martini glass. Top with a splash of soda water.
Dry Ice Instructions:
Handle dry ice with caution by always using tongs and gloves and must not be consumed. Dry ice is a simple ingredient and can be added directly to the glass. However, the dry ice must melt completely before drinking. Or you can purchase swizzle sticks that will safely contain the dry ice in the drink without worrying about accidental consumption.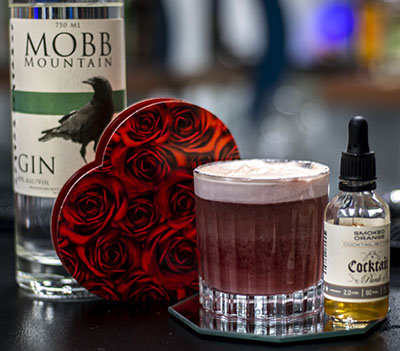 Velvet Amor - This silky cocktail is in the family of the classic gin fizz. The boldness of the pomegranate juice compliments the botanicals of the gin and the acidity of the lemon perfectly. It also turns this cocktail into a sexy ruby color perfect for an elegant and romantic night.
INGREDIENTS
1.5oz Gin
.5oz POMS Pomegranate Juice
.75oz Simple Syrup
.5oz Lemon Juice
1 Egg White
Splash of Soda Water
Rosemary
DIRECTIONS
Add all ingredients except the soda water to a shaking tin without ice. Vigorously dry-shake for about 15 seconds. Add 3-4 ice cubes and shake again until chilled. Double-strain into a Collins glass and top with club soda. Garnish with a rosemary sprig.
**Consuming raw and lightly-cooked eggs poses a risk of food-borne illness. Want to skip the egg? Try Aquafaba juice or Fee Foam from Fee Brothers to get the same frothy effect.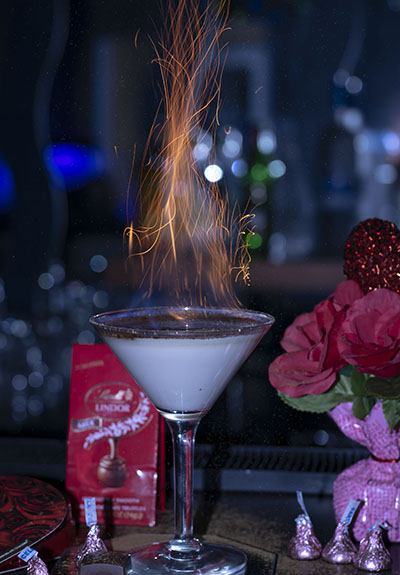 The First Spark - Not feeling like dessert after your romantic dinner but still have a sweet tooth? This creamy dessert cocktail balances Rumchata, Amaretto, and Kahlua for a perfect after-dinner nightcap. Even better, the twinkling fire finish is sure to bring you back to that very first spark!
INGREDIENTS
1oz Rumchata
.25oz Kahlua
.25oz Amaretto
1oz Heavy Cream
.25oz 151 Rum
Ground Cinnamon
DIRECTIONS
Combine all ingredients into a shaking tin with ice. Shake vigorously until chilled. Strain into a chilled martini glass. To light that first spark: Float 151 rum on the top of the cocktail and light with a lighter. Then sprinkle a dash of ground cinnamon over the flame for a sparkler-like effect. Blow out the flame immediately after and it's ready to consume.
Fire Safety:
Fire is a hazard and must be used with caution. Never bring an open flame near your body. Make sure to extinguish completely before consuming. If you choose to skip the flare, the drink tastes delicious without it! The sparks are just for effect.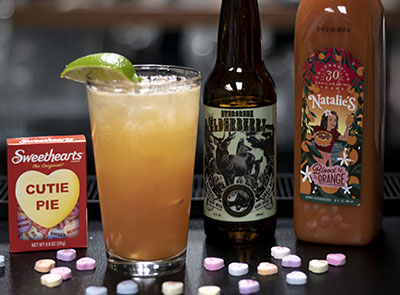 Tart Heart - This simple yet delicious cocktail is perfect for Valentine's day because it tastes exactly like a Sweetheart Candy! The tart Blood Orange juice compliments the creatively sweet Elderberry soda perfectly to make a refreshing drink great for any Valentine's day occasion!
INGREDIENTS
1.5oz Vodka
1oz Natalie's Blood Orange Juice
.5oz Simple Syrup
.25oz Lime Juice
Elderberry Rocky Mountain Soda
DIRECTIONS
Combine all ingredients except for the Elderberry soda into a mixing tin with ice. Shake well until chilled. Strain into a pint glass with fresh ice. Top with Rocky Mountain Soda Co. Elderberry Soda. Garnish with a lime wedge.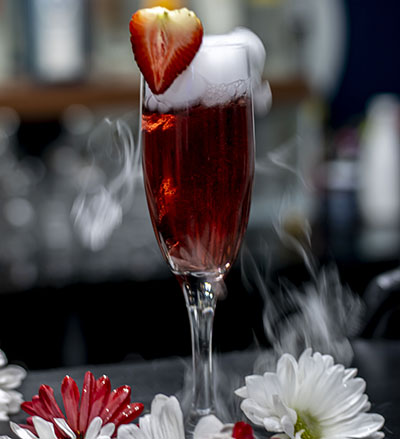 Kir Imperial - Looking for something super simple this Valentine's Day? The Kir Imperial is a classic cocktail variation of the Kir Royale. This drink may seem simple, but the decadent raspberry flavor of the Chambord is the true Queen of Hearts and will win over any champagne lover. What better way to celebrate your Valentine's Day than with some bubbles!
INGREDIENTS
.5oz Chambord
Champagne
Strawberries
DIRECTIONS
Fill a champagne flute ¾ of the way with your choice of champagne. Top with Chambord. Garnish with a strawberry sliced in half to make a heart.
The Fort Collins Academy of Bartending is key to the personality, success, and foodie scene of Old Town Fort Collins. You can visit the Fort Collins Academy of Bartending and other premier cocktail locations throughout Old Town by participating in our Libations Experience, which is a 2 1/2 hour guided walking tour to experience the drinks our city offers. Tickets are available now as we look forward to re-engaging the local community, and introducing visitors, to one of the best cocktail scenes in the country!
(Photo credits: Sierra Montez - Owner/Director of Social Media and Brand Communication at the Fort Collins Academy of Bartending)