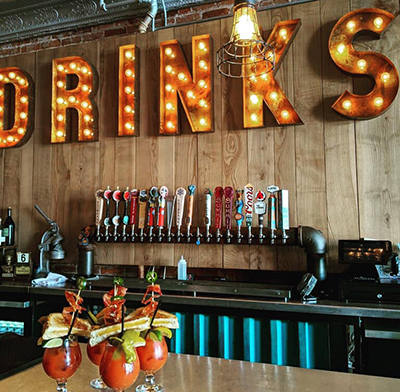 There are many nights throughout the week that you want to head out for a delicious bite of food and a memorable drink while being able to take in a relaxing atmosphere. While there are many options in the city to choose from that offer this, right at the top of the list is Pour Brothers Community Tavern, located on Linden Street in Old Town.
If you haven't had the chance to try Pour Brothers, you are missing out on a creative food menu that offers something everyone will enjoy, including the Reuben Rolls (an Old Town Food Tour Favorite), All Grown-Up Grilled Cheese, and their amazing Bratwurst Hoagie. Combine that with an extensive drink menu along with a team that cares about the customer and the product they put forward, and you have a location that needs to be on your weekly visit list in Fort Collins.
Old Town Food Tour's Justin Clapp had a chance to talk with Pour Brothers Community Tavern owner Kristy Wygmans to talk about what makes them unique in the Fort Collins food scene, what the support has been like from the local community, and why Pour Brothers should be on someone's must-try list!
Don't forget to buy your Old Town Food Tour tickets so you can see for yourself why Pour Brothers Community Tavern is a fantastic example of why Fort Collins is a foodie's paradise!
Tell us about Pour Brothers Community Tavern and what inspired you to purchase the business in 2019?
Pour Brothers Community Tavern was built to create a space that is a true catalyst for community. This is something that we remain passionate about and will always be at the core of the tavern. Having a nonprofit background, we were drawn to the community service focus and the Community Night events that occurred weekly, raising funds for nonprofits.
What makes Pour Brothers unique from other restaurants in the area?
We never planned on owning a bar, but this one inspired us with its big heart! If you have ever been in our space, almost everything in it was custom built by local craftsmen, welders, woodworkers, and artists. It took over one year to build out. You'll find fun marquee lights and a motor-powered art installation running along the opposite wall. Pour Brothers is well known for its photo booth, tucked away and discreet. We've seen people take first date photos, wedding photos, and then return to take pictures with their children! These photos have starred in holiday cards, engagement announcements, and wedding invitations. We've also hosted a couple of rehearsal dinners for couples who have met here, and that's super fun. We love nothing more than to be a small part of their story!
The word "community" is part of the Pour Brothers name, and guests get a sense of community when they stop in. How important is it to convey that feeling when people first stop into Pour Brothers?
It's everything. You'll often hear our long-time lead bartender say that we are an authentic Community Tavern. There is a light-hearted sign at the entrance to Pour Brothers, with an arrow and the wording "make pour choices," but don't let that message fool you. Pour Brothers is here to serve! Pour Brothers Community Tavern has always been easy-going and welcoming, a place that feels like an old friend. At the same time, behind the scenes, we have always been very intent and specific about being active in Fort Collins.
Tell us about the support that Pour Brothers receives from the Fort Collins community, and how has that continued throughout the past year with the pandemic happening?
We have the most amazing patrons and supporters! We could not have made it through a global pandemic without them. They walked our journey with us, held us up, and never veered from our side. When we were entirely closed by the mandate of the Governor, they bought gift certificates, designed and sold t-shirts, wrote articles, made videos, and shared our story. We had Community Night nonprofits booked for the entire year, and even though we were unable to do them in person, they kept on giving online. When we were only serving outdoors, they showed up in extreme heat and the frigid cold! And when we could allow people back into our space, they were delighted to be back! We are just starting to bring back our events and can't wait to get our photo booth back up and running again. We've got to pace ourselves, but we'll get there!
What are some of the most popular items on the menu at Pour Brothers? Tell us about the different cocktails you offer as well.
People love our tater tots! They started as a joke initially, and then they took off! Instead of nachos, we've got Tochos! We recently launched a new summer menu, added several gluten-free options (including a frozen key lime bar, which is delicious), expanded our grilled cheeses, and don't forget about our great brunch! Our towering Bloody Mary is a sight to be seen!
We proudly feature a wide variety of Colorado-based beer and spirits. All our 20 beers on tap are local to Colorado, many from right in our backyard! Our passion for creativity and craftsmanship is showcased in our inventive cocktails (have you tried our PB&J Mule or our fabulous non-alcoholic cocktails inspired by our daughter and her five friends?!), but we love the classics as well. We have over 60 whiskeys and make a mean Old Fashioned.
One of the things that makes Pour Brothers unique is the many different events throughout the week like Comedy Night and Community Night. Let's talk about Community Night first, as it is a night for Fort Collins to come together to help one great cause each week. If a nonprofit organization wants to be part of it, what does it entail? And how can residents of Fort Collins make a difference that night?
We are currently in the process of bringing Community Night back after the pandemic. We often fill the house on Community Night, and we needed to bring it back carefully and thoughtfully. Every Wednesday from 6-8 pm, we open our doors to a featured nonprofit. They have the space to showcase the excellent work that they do in our community. Some hold silent auctions, others play games or do scavenger hunts. We've even had sing-alongs and local celebrities! All tips during that time go to the nonprofit. We pay our staff a higher wage covering the tips they would have received, and everyone wins! If you are attending Community Night, don't be afraid to tip big. Our community has helped raise over $120,000 for our area nonprofits in the history of Pour Brothers! We have a waiting list of nonprofits that would like to participate, but we love to feature new nonprofits whenever possible. They can connect with us through the contact us form on our website.
Many people may not realize that you will have a Comedy Night two Sundays a month. Tell us about that and why it started.
Comedy is something new for us at Pour Brothers. Our inaugural showcase will be on July 18 at 8 pm. We are working with the Comedy Fort and can't wait! After the challenging year we've had, we could all use some laughs and good cheer! In the words of a close friend, "If I have had a good laugh, then it has been a good day!"
We know it takes a team to put forth the fantastic atmosphere and food that Pour Brothers offers. How vital is the team to you and the product that you put forth each day?
Our team has been through so much, and they worked extremely hard to persevere through the recent challenges. It took real dedication to keep their chins up and smiles on their faces when their world was turned upside down. Their work is very different now than it was, but they have adapted with grace. We had only owned the bar for one year when the pandemic hit and shut us down for more than 80 days. 100% of our staff returned when we reopened, which is a true testament to their commitment and resilience. They are the life within these walls!
If someone is new to Fort Collins or visiting, why should Pour Brothers be on their must-try list?
You can't go wrong with tater tots, a good shot of whiskey, a great classic cocktail, and 20 local beers on tap! Pour Brothers Community Tavern feels like home, where you can connect with friends, or make a new one, take a photo in the photo booth (coming back soon!), chat with the local brewers who frequent the bar and enjoy the cozy feel of a community tavern that's just a little bit different!
Pour Brothers Community Tavern is key to the personality, success, and foodie scene of Old Town Fort Collins. You can try Pour Brothers and other premiere restaurants throughout Old Town by participating in an Old Town Food Tour! We offer a 3 hour guided walking tour of some of the best restaurants that the city offers. Tickets are available now as we look forward to re-engaging the local community, and introducing visitors, to one of the best food scenes in the country!