One of the great things about living in Fort Collins is no matter where you go in Old Town, you experience the true personality of the city in each restaurant and business that you walk into. At 239 S College Avenue, Ace Gillett's has celebrated the Fort Collins community through food, drink, and music since 1923 and continues the tradition today.
When you walk down the stairs of Ace's, you're transported into an underground lounge that presents an experience like no other. In 2014, when Old Town Food Tour owners Tricia and Justin first walked into Ace's, they fell in love with the atmosphere, the creative cocktails, and the incredible food.
Old Town Food Tour's Justin Clapp had a chance to talk with Ace Gillett's Manager Samantha Garoutte to discuss what new Chef Rhys Edmunds has brought to the menu, the recent renovations completed at the restaurant, and why Ace's should be on someone's must-try list!
Don't forget to buy your Old Town Food Tour tickets so you can see for yourself why Ace Gillett's is a fantastic example of why Fort Collins is a foodie's paradise!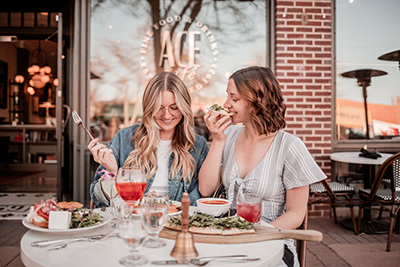 What is Ace Gillett's all about, and what can someone expect if they visit for the first time?
Ace Gillett's is about making people feel welcomed, valued, and like they're in the company of friends. We are all about making memories and cherished experiences. Whether you're in the mood to create your own vibe by selecting your favorite song from our vinyl collection, enjoying next-level culinary comforts, or having a cocktail mixed just for you - Ace is your place!
What makes Ace Gillett's unique from other restaurants in the area?
What makes Ace unique is our beloved "Ace Family." You're only a stranger here, but once. Whether you're a hotel guest checking in, a revered 'regular,' or a patron off the block, you will be met with open arms, warm smiles, and an opportunity to be 'one of the gang'!
Located above the lounge is the oldest operating boutique hotel in town, The Armstrong Hotel! We are also unique in that we have incorporated our hotel experience with our underground Supper Club Lounge and our vibrant Patio and Café. It is a trifecta of hospitable magic. We can be a destination oasis or a mere stop on a tour through Old Town.
Ace Gillett's went through a two-month renovation process that lasted until early 2020, right before the pandemic started. If someone hasn't been to Ace's since those renovations happened, what is different?
Well, a lot is different! The whole space has been thoughtfully redesigned. The result of this tasteful transformation has been illuminating. From floor to ceiling, the environment beckons our patrons to explore further and make themselves at home. The aesthetic is warm and inviting, with emphasis on attention to detail. The décor and ambiance are perfect for an intimate dinner, a lively night out with friends, or even a first date. The revamped space is also suited to host a variety of special events, large or small.
We also have an interactive library of vinyl in Ace Gillett's, brought to life by our talented DJs. We are also proud to host an eclectic variety of musicians who grace our patio and lounge. Please come check out our new additions: The Den, The Parlor, and Ace Café & Patio!
Tell us about Ace Gillett's support from the Fort Collins community, and how has that continued throughout the past year with the pandemic happening?
We are forever grateful for all the support we have received. We were so fortunate to have our "Ace Family" purchase gift certificates through the Downtown Development Authority during our closure. We are also very grateful for the outpouring of love and support from our loyal guests, friends, and family. We couldn't have done it without them!
We have been honored to have guests from all over continuing to visit us at The Armstrong Hotel safely. They were thrilled they could bring their pets along with them on their road trips.
Many patrons offered their support on our patio when we first re-opened, and many musicians are eager to have the chance to play for them. Other local establishments like Jay's Bistro, Social, and The Whisk(e)y offered their neighborly support.
We were able to participate in Great Plates of Downtown and look forward to more community-building events. Old Town may be square, but the love keeps going 'round and 'round!
One of the most incredible new additions to Ace Gillett's is The Den, which people can utilize for a special date night. What inspired adding The Den, what separates it from other date nights, and how can someone reserve it?
The Den came from the genius of our General Manager, George Prine. He collaborated with our team and turned what used to be the home of our hotel ambassador, Oreo the Cat, into a sleek, exciting, Instagram-able haven. The room is adorned with exposed brick, dim lighting, neon light accent, and even its own disco ball! The little cat door remains to pay homage to Oreo; may she rest in peace. This room allows for a romantic and secluded setting. It stays with the lounge's theme but offers space for guests to enjoy their company with few distractions. The Den is available for reservations by calling ahead or reaching out via email. This creative space is also free to walk-ins, or patrons, who stumble upon it.
What are some of the most popular items on the menu at Ace Gillett's? Tell us about the different cocktails you offer as well.
There are so many fan favorites! Brunch all-stars are the Crab Cake Benedict and Smothered Burrito. Our Dynamite Tots and Devils on Horsetooth are bestsellers, offering bold flavors like rosemary oil topped tots complimented by sriracha ketchup & house ranch dipping sauces. The Devils on Horsetooth are an outstanding balance of sweet & spicy, boasting cream cheese-stuffed, bacon-wrapped dates, finished with fresh jalapeño and caramel drizzle. You can't go wrong with our pickle-brined, Spicy Fried Chicken Sandwich. It has the best crunch and just the right amount of heat. Our Arugula & Prosciutto Flatbread is a hit, day or night. It is served on made-from-scratch flatbread and topped with parmesan cheese, fig chutney and has a hint of balsamic reduction. The Crab Louie is a new summer staple bringing in fresh flavors of tomato, cucumber, asparagus, bib lettuce, hardboiled egg, and loads of crab! There is something for all palates on our menu.
Looking for something to quench your thirst? Look no further! We offer a variety of classic and inventive cocktails. We use only freshly squeezed juice and make our own cordials, syrups, and infusions. We create libations based on guest preference and honor the classics like the Old Fashioned, Whiskey Sour, & Negroni. We also offer Ace Originals like the "Magic Mouse" & "Ruby Soho." The Magic Muse incorporates Empress gin, Luxardo, lime, & yellow Chartreuse. The Ruby Soho tastes like a grapefruit dusted with sugar. Its ingredients are Aperol, NOCO gin, grapefruit cordial, and elderflower liqueur. You'll also be sure to find local brews and more local spirits on our menu.
Chef Rhys Edmunds just started at Ace Gillett's, and Old Town Food Tour can vouch that his food is AMAZING. I don't think we could stress that enough. Tell us about his background and what he brings to the menu at Ace Gillett's.
Chef Rhys AND his food are AMAZING! He is the most talented Chef I have ever had the pleasure of working with. He not only brings passion to every dish, but he brings true art to his craft. He creates delectable dishes, inspires and mentors his team, and puts love into everything he curates.
Proudly serving the Fort Collins community for 25 years with local and sustainable food, Chef Rhys grew up in the suburbs of NYC, where he developed a love of food from the fantastic food scene, watching cooking shows on PBS, and reading Gourmet magazine.
Over the years, Chef has garnered accolades and recognition for his talent, including bringing home the "Toast of the Taste" (People's Choice Award, 2017) in the "Taste of the Nation" fundraiser for the Food Bank of Larimer County after many years of participating.
Rhys has enjoyed developing and executing unique culinary events alongside other renowned chefs in the community. He showcased his skills in dinner parties with "Fortified Collaborations: Bounty and Brews," where the community gathered at a greenhouse for dinner. Each course was prepared by a different chef who was teamed with a local brewery. He also participated in the "Heart Of Summer" dinner, a 4-course meal for 150 people served at a long communal table in the middle of a 100-acre farm.
When Chef isn't working, he enjoys spending time with his wife Susie, who teaches dance, and daughter Violet, a gamer, dancer, and horseback rider.
People always notice when they stop by Ace Gillett's for the first time, is the atmosphere. It's one of the things (out of many) that consistently brings us back to Ace's. If you had to explain the atmosphere to someone who has never been to Ace Gillett's, what would you tell them?
I would tell them it's one of a kind! It's personable, polished, professional, but never pretentious. The atmosphere is genuine and fun-loving.
We know it takes a team to put forth the fantastic atmosphere, food, and drinks that Ace Gillett's offers. How vital is the team to you and the product that you put forth each day?
They are as vital as a heartbeat. Our team is the nucleus of this fantastic place. It is their energy and glowing smiles that offer a path back to connection and community. I am so very proud of each person. They have been through a lot over the past year and a half, and they have shown dedication, perseverance, and tenacity. Above all, they have kept up great attitudes, standards, and the ability to overcome adversity. Within our diverse team, we continue to share the same goal. As our Lead Bartender, Jax Long would say: "One Team, One Dream!" Our staff has been diligently working to ensure that our doors remained open, and we are delighted to report that they are! Please swing by to meet all the incredible people who made that a reality.
If someone is new to Fort Collins or visiting, why should Ace Gillett's be on their must-try list?
I have been told that Ace Gillett's reminds patrons of a swanky venue from New York or Chicago. I have been told our patio has a beautiful Parisian flare. I have been told that Ace is where patrons from all walks of the globe always come back to visit. So, I would have to say to someone new to town or visiting... "I encourage you to come and tell me what it is that makes Ace Gillett's special to YOU!"
Ace Gillett's is key to the personality, success, and foodie scene of Old Town Fort Collins. You can see Ace's and other premier restaurants throughout Old Town by participating in an Old Town Food Tour! We offer a 3 hour guided walking tour of some of the best restaurants that the city offers. Tickets are available now as we look forward to re-engaging the local community, and introducing visitors, to one of the best food scenes in the country!