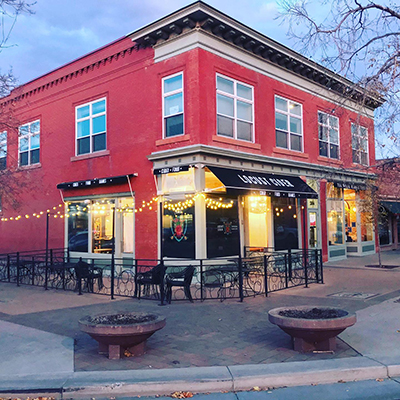 I remember the first time I took a sip of a hard cider. In 2000, I was working in the media industry and was part of an event at an apple orchard in Central Vermont. The owner (whose name escapes me) wanted to thank us for supporting his orchard by giving us a bottle of cider that was just ready to serve that day. I got home, opened it immediately, and quickly was hooked by the flavor profile and the feeling of refreshment.
Fast forward 21 years later, and my passion for hard cider has continued as I embark on my quest to experience some of the complex and desirable flavors that the industry has put forth.
When Locust Cider opened in Fort Collins in late-2020, I made it a point to see what they were all about and sample their flavor profiles. However, I also instantly learned that they do a fantastic job pairing their ciders with the food they plate. This is why when Old Town Food Tour came to fruition, it was essential for us to partner with Locust Cider so both our community and visitors could experience this hidden gem in Old Town Fort Collins.
I had a chance to talk with Becki Kregoski, Taproom Manager at Locust Cider-Fort Collins, to discuss what everyone should know about their location at 200 Walnut Street, the inspiration behind the food menu, the personality of Chef Nate, and the atmosphere which is welcoming to everyone in the city!
Don't forget to buy your Old Town Food Tour tickets so you can see for yourself why Locust Cider is a prime example of why Fort Collins is such a special place to live, eat, and drink!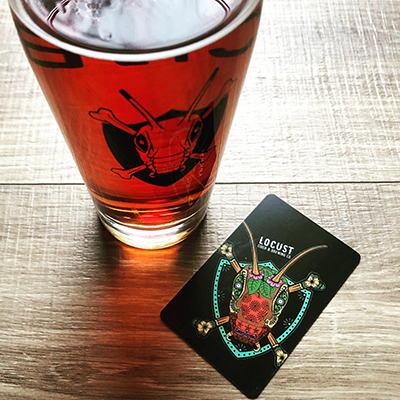 What is Locust Cider all about, and what can someone expect when they visit for the first time?
Our goal is to make ciders that don't just make you say, "Yum, that's good." We want to make you say, "Hell yeah, that's amazing!" We are not beholden to tradition, but we respect it. We love nurturing unique apple varieties to deliver the best traditional dry ciders possible. But we also love getting crazy and using the common Washington eating apple and a vehicle to create flavor combinations. We'll try anything, as long as it's made with REAL ingredients, not flavorings or artificial sweeteners. Our taprooms are the perfect testing grounds for flavor combinations that nobody would dare try out in a can for the first time - like Smoked Blueberry, Dates and Brown Sugar, or Vanilla Bean ciders. We want to open the world of cider for you to explore and try to make ciders across the spectrum. A portion of proceeds for all cans and our Swarm Club cider club are donated to the Hydrocephalus Association, an important and personal cause to owners Jason and Rebecca Spears, whose daughter lives with the incurable brain condition.
Coming into Locust Cider for the first time, you'll be greeted by one of our friendly and knowledgeable cider tenders and given a rundown of the 13 ciders and 2 hard teas we have on tap. We will force tasters upon you, be sure of that, to ensure that you enjoy your pint - nothing is worse for us than watching someone struggle to drink a pint that they don't absolutely love! Our extensive menu is available, as well as pairing recommendations, and you're going to want this food!
What makes Locust Cider unique from other locations in the area?
The widespread diversity of our tap lineup is all over the place - in a good way! We offer some incredibly dry ciders as well as mid-range and sweeter ciders. Our two new hard teas are the only hard teas on tap in the area! Botanical Berry Hard Tea and Meyer Lemon Hard Tea are low sugar, low carb, and low calorie, and packed to the gills with Rooibos tea and organic ingredients. Suppose you're looking for a "healthy" but delicious alternative while still getting a fun buzz. In that case, I recommend these! We can also put them over ice.
Locust Cider opened in Fort Collins during the pandemic, which was an uncertain time for all businesses. What has the support been like from the city and residents since Locust first opened the doors?
The day we opened the doors, we were packed, and then less than one month later, we were shut down to indoor seating, allowing only patio dining and cider to-go. Not ideal with the chilly weather and only small heaters available at the snow-covered tables. The community rallied around us with regulars stopping by multiple times a week to grab a six-pack or two, dinner to go, or braving the outdoors with a steaming mug of our hot boozy cinnamon cider. Without the support of our regulars, it would have made for a very bleak winter.
People may not realize, and one thing we have tried to focus on with Old Town Food Tour is that while Locust has excellent cider, the food is equally fantastic. Tell us about the food menu and the inspiration behind what you offer guests.
Our head chef, Nate Hines, owns the Welsh Rabbit Cheese Shop and the Welsh Rabbit Cheese Bistro. I've been a fan of his genius menu since I moved to Fort Collins eight years ago. Having him in our kitchen has been a true stroke of luck. We offer a wider variety of dishes from potatoes and raclette (a pile of potatoes covered with a pile of cheese - what's not to like?) to fresh basil balsamic salads, bison, and bacon sliders to spicy snails and venison tacos. Our menu is out of this world and has something for everyone! We also serve everything tapas-style, so you can get as few or as many small plates as you want and can try our entire menu!
Whenever we bring an Old Town Food Tour to Locust Cider, our guests consistently remark about the personality of Chef Nate and how captivating he is. What is Chef Nate's background in culinary?
Chef Nate worked on ranches in Texas for 10 years, then went to culinary school in Portland, Oregon, at the age of 28. He was schooled in classical French cuisine and spent the following years creating culinary brilliance all around Texas, Ohio, and Colorado. His first job as an executive chef was at a 5-star hunting lodge in Texas, where he first began working with wild game. After that experience, he worked at multiple restaurants as a pastry chef, a line cook, and front of house manager at an Italian restaurant. Nate, his brother, and his sister-in-law opened the Welsh Rabbit Cheese Shop in 2012, followed by the Welsh Rabbit Cheese Bistro in 2014, which has been going strong ever since!
What are some of the most popular items on the menu at Locust Cider?
The original bestseller was definitely the spicy snails, surprisingly! However, since we introduced our new summer menu, the bison bacon sliders have been our top sellers, followed closely by the venison tacos and the bruschetta. It all depends on the weather!
Let's talk about the cider as you have captivated guests who are either trying hard cider for the first time or may not have a cider drink as their first choice. What assists with that is the assortment of flavor options Locust offers. Can you talk to us about the different flavors, including the cores and seasonals?
We always have our five core ciders on tap - Original Dry, Cold Press, Dark Cherry, Honey Pear, and Vanilla Bean. Our best seller by far is the Vanilla Bean - as we like to describe it, an adult cream soda! It tastes just like a boozy childhood! As for our seasonals, we are CONSTANTLY rotating flavors. You're likely to see a new flavor almost every other week here! Some of the most popular rotators/seasonals are the Mojito (mint and lime), Blood Orange Milkshake (super tart with a perfectly smooth finish), Black Currant (dark and fruity, but ending dry) as well as some of our Colorado specific flavors like Honey Lavender, Oak Aged Elderberry and Cucumber!
One of the great things about Locust Cider is that the atmosphere lends itself as a welcoming stop for someone by themselves stopping for a drink, a couple heading out to date night, or a family looking for food that their kids will enjoy with drinks that the adults will remember. How important is it for you to be able to create this atmosphere that lends itself to everyone?
Our taproom is a child's dream, no matter what age you are! Our vintage video games (Sega and Nintendo) transport you back to the easy-going times of your childhood as you sip on your pint. For those who want an intimate date night, we've got cozy corner tables in the back, open window tables up front where you can people-watch, and plenty of patio seating if you're looking for a little more quiet open space. If you're looking just to get away and talk with your therapist/bartender, we've got seats at the bar and are always happy to chat! Everyone is welcome!
We know it takes a team to create the fantastic atmosphere, food, and drinks that Locust Cider offers. How vital is the team to the product that Locust puts forth each day?
Locust would not be in existence today if not for our fantastic team. They all, front of house and back of the house, put their hearts into helping our customers, be it describing a cider, lending an ear, offering suggestions of other places around town, or cooking up a delicious meal. They are the backbone of the company, and we definitely got fortunate with the staff that we have who always want to work and help out as needed. A huge thanks to Kellie, Nat, Nate, Anthony, Sydney, and Katie for all they do!
If someone is new to Fort Collins or visiting, why should Locust Cider be on their must-try list?
Our cider selection, in addition to our knowledge of everything in Fort Collins, is an asset to anyone visiting the town for the first time. We will always ensure that our customers will find food and drinks that they'll love. If they're looking for something else, we're happy to point them in the direction of any other business. We support every single one of our neighbors and are happy to be the encouragement to help keep local businesses in business.
Locust Cider is key to the personality, success, and foodie scene of Old Town Fort Collins. You can visit Locust and other premier restaurants throughout Old Town by participating in an Old Town Food Tour! We offer a 3 hour guided walking tour of some of the best restaurants that the city offers. Tickets are available now as we look forward to re-engaging the local community, and introducing visitors, to one of the best food scenes in the country!
We are also happy to announce that Locust Cider will be joining us on our Libations Experience, which launches on September 9! Tickets for this tour go on sale on August 16.