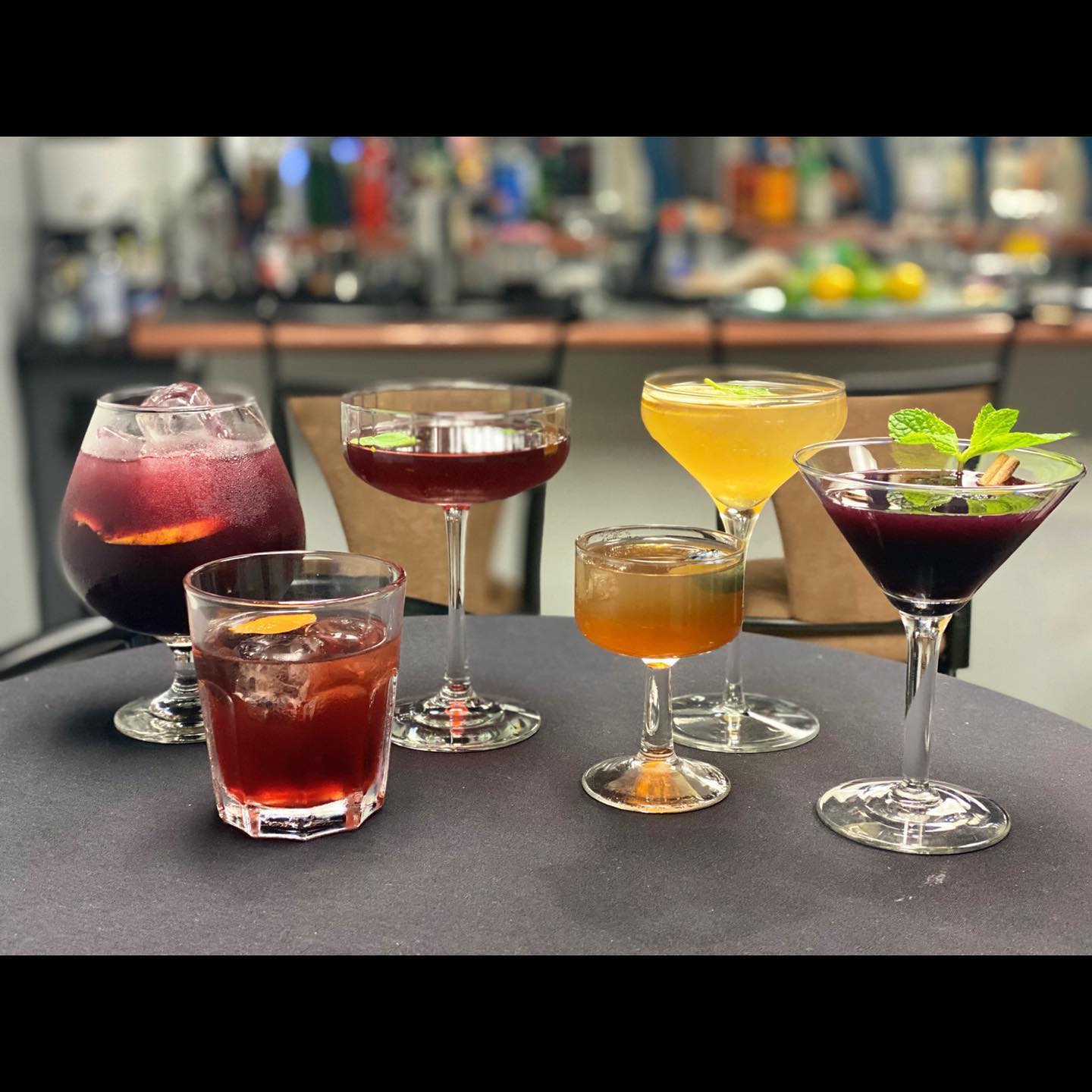 At the beginning of September, Old Town Food Tour launched our Libations Experience, a journey around Old Town Fort Collins to drink cocktails and experience the science and fun behind crafting them!
When we were planning our newest tour offering and the opportunity to partner with the Fort Collins Academy of Bartending was a possibility, we knew that it was a stop that needed to be offered to guests. Haven't we all wanted to entertain friends and family at our homes by creating masterful cocktails that everyone will want to come back for more of?
However, what is the Fort Collins Academy of Bartending, and how can you become a student of the fantastic teaching that Dakota, Sierra, and the team put forth? In this week's blog, you have a chance to learn all about them and more, which will make you want to sign up for a class today!
I had the chance to sit down with owner Dakota Montez to find out what the Fort Collins Academy of Bartending is all about, the popularity behind the mocktail, and what someone can expect when they sign up for classes.
Don't forget to buy your Libations Experience tickets so you can see for yourself why the Fort Collins Academy of Bartending is a prime example of why Fort Collins is such a special place to live, eat, and drink!
1.) What is the Fort Collins Academy of Bartending all about? Can you tell us about the different classes you offer?
The Fort Collins Academy of Bartending is the only accredited private occupational school in Northern Colorado to learn how to bartend. Suppose you are looking to start a new and exciting career or become an amazing host for your friends and family during parties. In that case, The Fort Collins Academy of Bartending is here for all of your libation-related needs. All of our first-time bartenders start by taking Bartending 101. This course is designed to teach you everything you need to know when you first step behind a bar. You will learn 100 foundational cocktails, how to accurately and efficiently free-pour, different drink-making methods, as well as the safety and ethics it takes to be a responsible bartender. After successful completion of 101, the next course to further enhance your bartending knowledge is Mixology 201. In this advanced-level course, you will get into the true spirit of being a craft-cocktail artist. You will learn the brilliant and beautiful history of craft cocktailing and how to create your own unique cocktails using each of the foundational spirits to their fullest potential. This course covers everything from homemade simple syrups, the importance of garnish selection to even creating your very own cocktail menu. The Fort Collins Academy of Bartending offers private classes as well. The private classes will be explicitly designed to fit your needs and what you are looking to learn.
2.) If someone is looking to take classes to impress their friends, what can they expect when learning from you?
The Fort Collins Academy of Bartending instructors have over 20 years of combined experience in the industry. We pride ourselves on teaching you how to be an extraordinary and professional bartender. Many people come to our Academy without much knowledge about what makes a drink a good drink. By the end of our classes, you will not only know what makes a good drink but be able to make them for all of your friends. No more straight shots of vodka! Not that we're judging! After completing the course, many students come back to show us just how much their home bar has improved. Some students have even created cocktail menus for their in-home bar and use them at their private parties. All of your friends and family will ask you to make them your favorite drinks, and you will be proud to show off your creations. By the end, you will be a free-pouring pro!
3.) If I'm someone opening a bar in Fort Collins or Northern Colorado and want to learn more about the industry along with the "tricks of the trade," how does a partnership with Fort Collins Academy of Bartending benefit me?
The Fort Collins Academy of Bartending has developed dozens of long-lasting partnerships with Restaurateurs all over Colorado and even Wyoming. Something that makes this industry unique is that the restaurant industry is like family! We love to be a part of our Restaurant and Bar owners' journeys in every way that we can. From helping you bring your cocktail menu vision to life, to staff training, to Front of House Management, we are here for you every step of the way! We offer private courses for owners so that we can curate the perfect curriculum to meet your needs! We have many partnerships with bar owners outside of the classroom as well!
4.) The last almost two years have been challenging for all business owners, and many had to pivot to different offerings. What did the Fort Collins Academy of Bartending do to still teach during those times, and do you still offer online classes?
The last two years were highly challenging for many people, especially the food and beverage industry. For the first time in the Academy's history, we did start our online class offerings. It was a new program to us, and we did not know what to expect. However, we quickly realized that this industry needed staff, and many people were looking to pivot their careers. So we wanted to do everything we could to teach new students and bring fresh and inspiring bartenders into the industry! Even though the online classes were successful and we had many people take advantage of learning something new.
In contrast, since reopening in person, we have not had many online class requests. 75% percent of the coursework is hands-on and interactive. We give our students a lot of time behind the bar perfecting their pours and doing speed drills to become experts in accuracy and efficiency. While this can be accomplished online, this industry is a live experience. We know students get the most out of their training in person. We do still offer online classes to those who are still safe at home. However, we highly encourage those that can safely participate, to enroll in live or private classes.
5.) Mocktails are becoming more popular for people, especially those who may not drink but want to enjoy a night out with friends. How do you incorporate mocktails into your classes?
Mocktails are trending, and we are so grateful that many bar owners in Northern Colorado are starting to offer Mocktail Menus! Mocktails are very important to us. We believe that everyone deserves to enjoy a delicious drink when they are out! That is why in every single class, we offer a lesson about mocktails and how to create the perfect drink for every guest in the bar! People go into establishments to have a good time, unwind, and spend time with the people they care about. We make sure that every bartender graduating from our Academy knows that craft cocktailing is an art that is more about creating a unique experience for the guest and less about the alcohol.
6.) What are some of the other drinks that people can learn when taking a class with you?
In Bartending 101, the students learn 100 foundational cocktail recipes. The students learn all about juice drinks like a Madras or a Sex on the Beach, cocktails like a classy Cosmopolitan or Manhatten, and our personal favorite, how to create the perfect Martini! Students who want to go a step further and take Mixology 201 will learn how to create unique cocktails that were invented by the students themselves!
7.) What makes the Fort Collins Academy of Bartending stand out amongst the many other bartending school options?
Many bartending schools, either online or in-person, offer very similar curriculums. All of the options are great and will get the student to where they want to go with their education.
This industry is unique because it doesn't take a special degree. Bartenders come from all walks of life. We have taught students from all backgrounds: doctors, legal professionals, college students, small business owners, tattoo artists, you name it! We are proud to be a part of an industry that accepts you for who you are and appreciates what makes you, you! At the Fort Collins Academy of Bartending, we make sure that every student realizes their potential and recognizes our students' unique personalities. We will show you how to succeed in this career by being 100% true to who you are! The Fort Collins Academy of Bartending does not simply teach bartenders. We inspire artists that are proud of themselves, their craft, and the community they are now a part of after taking one of our courses!
8.) How can someone sign up for the classes you offer?
Signing up for classes is easy! Simply call us at 1-855-970-4TIP to enroll!
The Fort Collins Academy of Bartending is key to the personality, success, and foodie scene of Old Town Fort Collins. You can visit the Fort Collins Academy of Bartending and other premier cocktail locations throughout Old Town by participating in our Libations Experience, which is a 2 1/2 hour guided walking tour to experience the drinks our city offers. Tickets are available now as we look forward to re-engaging the local community, and introducing visitors, to one of the best cocktail scenes in the country!