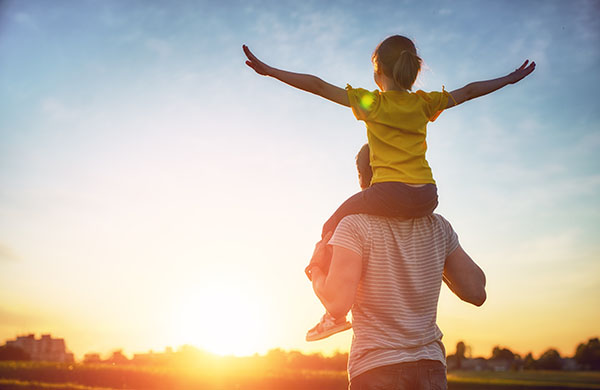 Father's Day is right around the corner, and you may find that he is more challenging to shop for than your mother. If you're having a hard time figuring out what to buy him, why not create a special day in Downtown Fort Collins that will always be memorable for both you and your dad (or dad to your kids)?
Here are sample itineraries we have put together to give you a starting point for an idea or run with and do as they are written below. Either way, we know spending the day downtown on Father's Day will help create memories and allow you to spend quality time with each other!
ITINERARY #1: Stylin' and Distillin' (Saturday itinerary)
Start your excursion with Dad at The Exchange, where you can get him lined up for a fresh cut (and style) at The Foundry Barbers. To make it easy for planning, you can book his appointment on their website, where he'll get his haircut while overlooking everything that's going on at The Exchange. The Foundry Barbers specializes in traditional and modern haircuts, so no matter what your dad is interested in, they can do it for you. They're open starting at 11 am on Saturdays, so making this the first stop will allow dad to sleep in!
After he has his new haircut and ready to show it off to everyone in Fort Collins, take a walk east down Old Firehouse Alley and stop at Pour Brothers Community Tavern for lunch. They serve brunch from 10 am - 2 pm on Saturday, and dad will love their French Toast Crunch, which is thick-cut sourdough, dipped in crushed Cap'n Crunch® cereal, topped with a caramel drizzle, berries, and whipped cream! Tag team that with a Breakfast Old Fashioned (Old Grandad Bourbon, Vermont Maple Syrup, and Cardamom Bitters with just a splash of Orange Juice), and he'll want to keep coming back for more.
Part of this itinerary includes dad getting a new outfit for his weekend casual wear, and Akinz, located in Old Town Square, is where he'll find comfortable clothing that will make him the coolest out of all fathers. I highly recommend seeing if they have the "Beer Makes Me Hoppy" shirt available. Everyone will be asking where he got it from!
At this point, you've spent a few hours with dad (after hitting up many other great stores in Old Town Square), and it's right around the late point of the afternoon. How do you wrap up this particular itinerary with him? If he loves the taste of whiskey (and great food), take him to The Still Whiskey Steaks, where they have a selection of over 40 Colorado whiskeys for him to try! We're not joking about their whiskey menu. It's simply AMAZING, and you can check out their entire drink menu here. Just remember to treat him to some food while he's enjoying the whiskey, so order up the Meat Pile appetizer while you're there.
ITINERARY #2: Sweet Treats for Dad
This itinerary is all about showing dad how sweet he is by filling up his stomach with some of the best desserts that downtown Fort Collins has to offer. Just make sure he doesn't overdo it!
You can make these plans on either day during Father's Day weekend, but it has the perfect start as you take him to Fort Collins Donut Company in The Exchange. Go ahead and buy six donuts, which I think is the right amount for you to enjoy while planning on taking in the rest of the "sweetness" of downtown. Whether Dad will like the classic glazed or the Maple Tree Hugger, we know he'll appreciate the flavors that go into each donut made.
From this point, make your way to the Old Town Spice Shop located on College Avenue. It's a short walking distance from The Exchange, and if he loves to cook or barbecue, he'll find every spice he needs to cook the perfect dish.
Now that you've had a chance to walk more of downtown and experience the incredible local small businesses that line the area, it's time to add another sweet to his day. Stuft Burger Bar is not only known for its burgers but also its milkshakes. You can either share one or let dad have his own. Either way, he'll enjoy flavors like Salted Caramel, Poptart, Strawberry Shortcake, and more.
So you've had a milkshake, and it's time to get some steps in before you introduce dad to his last sweet of the day. The steps are worth it because this dessert is extra special as you take him to Ginger & Baker for one of their amazing pies. Apple, cherry, coconut cream, banana cream, and more are all great choices to wrap up dad's day before he heads into a food coma at the end of the day!
ITINERARY #3: Slices, Sports, and Speakeasy
Our final itinerary with dad allows him to sleep in late while enjoying an afternoon filled with food and shopping. Every father, child, and significant other loves pizza. So why not start your time with him at Slyce Pizza, located on West Mountain Avenue? This is the perfect opportunity to grab a delicious slice of cheese pizza or try something different like Slyce's Mac-N-Cheese pizza. Order it and let them box it up for you to enjoy an outdoor lunch at Oak Street Plaza Park or Civic Center Park.
If dad is a sports fan, then head to Rocky Mountain Retro Sports Apparel in Old Town Square! They have every team you could think of, and your father will find the right shirt or hat to wear as he shows his pride for the Broncos, Avalanche, Nuggets, Rockies, or CSU Rams.
When it comes to sports, your dad loves to be part of the action, especially when it comes to disc golf. Fort Collins has plenty of courses for some competitive frisbee fun, and if this is right up your dad's alley, you'll want to take him to The Wright Life. Their motto is "the most fun wins," and your dad lives by that motto every day. Check them out with dad this year!
As you get ready to wrap up your time with dad, and he's enjoyed every minute of it, make Ace Gillett's the final stop on your itinerary. They open at 4 pm on the weekend and have a complete food and drink menu that we promise your dad will enjoy, plus the atmosphere inside Ace's is an excellent complement to his Fathers Day weekend.
We hope these itineraries help you put together the perfect weekend for dad! Don't forget that his day is on Sunday, June 20, so you have plenty of time to start planning.
Is your dad a foodie? Well, make it a whole weekend for him and book an Old Town Food Tour for your entire family! He'll enjoy being able to sample many of the restaurants we have listed above, all with generous tastings that will make his foodie personality run wild. It would be a perfect weekend to do an Old Town Food Tour on Friday and follow it up with one of the itineraries above on Saturday or Sunday.