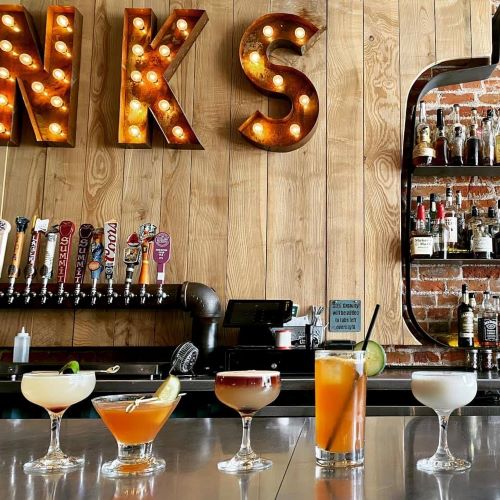 The night before Thanksgiving is one of the busiest nights throughout the year when it comes to being with both family and friends while enjoying craft beer, cocktails, and libations at your favorite locations. This year, Old Town Food Tour wants to put together a special Friendsgiving celebration for you with our first every Friendsgiving Libations Experience!
During this special Libations Experience Tour, you'll focus on how to make the perfect mocktail, enjoy drinking cocktails, small plates of food, and even more cocktails starting at 4 p.m. that afternoon. Here's how the special Friendsgiving Libations Tour will be setup throughout the evening (subject to change):
4:00 p.m.: Official tour meeting time
4:00 - 5:00 p.m.: Learn how to make mocktails and how to become an expert bartender at the Fort Collins Academy of Bartending.
5:00 - 5:30 p.m.: Walk to Jay's Bistro to enjoy a small plate of food while enjoying one of the best cocktails in Fort Collins and learning why Jay's Bistro was just named the best dining experience in Fort Collins.
5:40 - 6:10 p.m.: Your tour guide will take you to Pour Brothers Community Tavern to have a cocktail in one of Fort Collins most iconic taverns while sampling some of their amazing food.
6:20 - 6:50 p.m.: Your tour will wrap up at Coppermuse Distillery, where you'll learn about the inspiration behind their spirits while sampling one-of-a-kind cocktails.
After the tour is complete, we invite you to spend a night out on the town with your friends and family before you give thanks the next day!
Reservations are $120 per person and includes the following:
3 hour Libations Experience tour
2 sample cocktails per person and a small plate of food at each location (except for the Fort Collins Academy of Bartending)
Bartending teaching experience at the Fort Collins Academy of Bartending
$25 2023 Old Town Food Tour Gift Card per person booked (if you book for two guests, you'll receive $50. If you book four guests, you'll receive $100)
Holiday gifts from our local downtown merchants including gift cards and more
Notes:
This tour is only available to those 21+.
Gift cards are not allowed for the purchase of a reservation for this tour.
Please make sure you tell us of any allergies or dietary restrictions but please be aware that gluten-free is a restriction that we can't accommodate at this time.
You are allowed to cancel your tour and receive a full refund within 24 hours after booking. After 24 hours, you'll receive a gift card which will be in the amount paid. If you cancel less than 24 hours before the start of the tour, or no show, no refund or gift card will be given.
Ready to make your reservation? Click the calendar date below to book now: