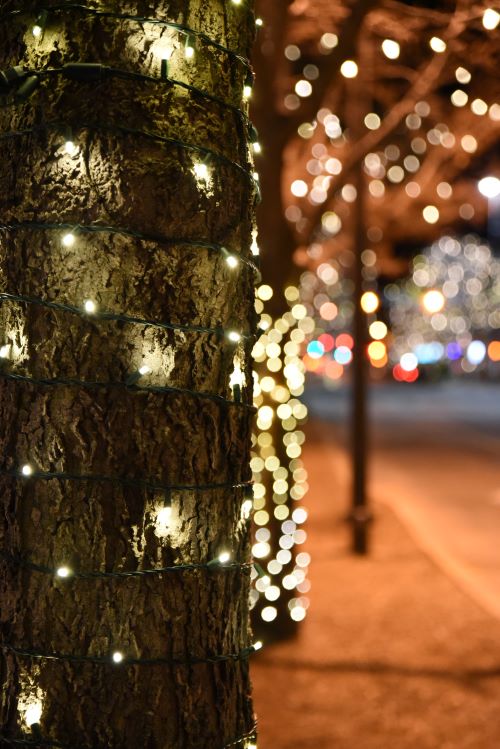 It's one of our favorite times of the year, and Old Town Food Tour wants you to celebrate the season with us with our first Progressive Food Tour during the Old Town Fort Collins Holiday Lights Ceremony on Friday, November 3.
Every evening starting on Friday, November 3 and running until Valentine's Day, downtown Fort Collins is illuminated with thousands of strands of white lights stretching through the city streets which you'll see shining bright from treetops, alleyways, and sidewalks, providing a scene that everyone must experience a few nights during the season. To see the wonder of these lights, check out the video below produced by Downtown Fort Collins:
During this special Old Town Progressive Dinner, you'll enjoy dinner and cocktails before the lights get turned on as we get you ready for the holidays, courtesy of Locust Cider and The Still Whiskey Steaks. Here's the full schedule for the tour:
4:00 p.m.: Official tour meeting time
4:10 - 5:10 p.m.: Enjoy sample size appetizers, salad and/or soup, and adult cider drinks from Locust Cider.
5:20 - 6:20 p.m.: Walk with your tour guide and head to The Still Whiskey Steaks for your sample size main course, side dishes, dessert, and cocktails.
6:20 p.m.: Your tour guide will bring you outside to a reserved seating area (location TBD) so you can watch the holiday lights brighten the downtown for the season at approximately 6:30 p.m.
The Progressive Food Tour will conclude after the lights illuminate the downtown streets. But afterward we invite you to start your holiday shopping and visit our local merchants and restaurants to buy gifts for your family and friends.
Reservations are $150 per person and includes the following:
2 1/2 Hour Progressive Food Tour
$25 2024 Old Town Food Tour Gift Card per person booked (if you book for two guests, you'll receive $50. If you book four guests, you'll receive $100)
Reserved outdoor seating area to watch the illumination of the Downtown Fort Collins Holiday Lights
Holiday gifts from our local downtown merchants including gift cards and more
Notes:
This tour is only available to those 21+.
The maximum number of guests allowed on the tour is 6.
Gift cards are not allowed for the purchase of a reservation for this tour.
Please make sure you tell us of any allergies or dietary restrictions but please be aware that gluten-free is a restriction that we can't accommodate at this time.
You are allowed to cancel your tour and receive a full refund within 24 hours after booking. After 24 hours, you'll receive a gift card which will be in the amount paid. If you cancel less than 24 hours before the start of the tour, or no show, no refund or gift card will be given.