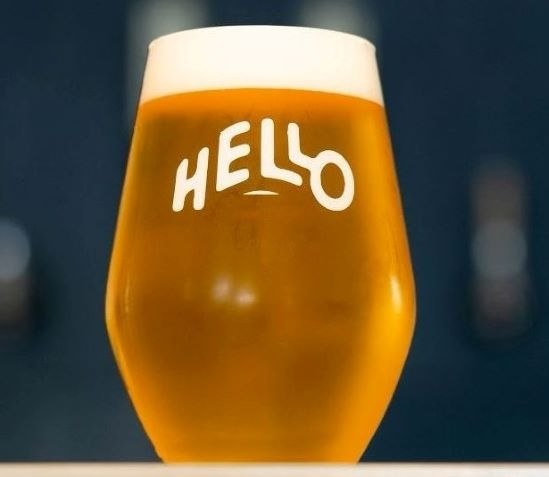 There's a reason why they call Fort Collins the 'Napa Valley of Beer': because of our pure water sources, the final brew products are unlike anything else you'll taste across the U.S., which is why we have a lot to be proud of when it comes to our local breweries.
Another great brewery has just opened their doors, and we're so excited about the addition to the Fort Collins beer community: Hello Brew Co., which according to co-founder Christine Lukasen, is focused on being contemporary while also providing you with classic favorites you'll never say no to.
We had the chance to ask Christine and her co-founder Ryan Maliski a few questions over email about what you can expect from the new jewel in FoCo's brew crown, and after this, we guarantee you'll be thirsty for an IPA.
Tell us about Hello Brew Co. and what customers can expect when they walk through your doors.
Hello Brew Co. is a brewery focused on offering a variety of contemporary beers, with a couple of traditional styles available. We are located in an 118-year-old house. When you walk into the space, you might notice the vaulted ceilings and the clean minimal design.
What's the best part about owning a business in Fort Collins --- and operating out of an old house?
The best part of running a business and particularly a brewery in Fort Collins is the genuinely supportive community. The fun part of being located in this old house is the deep history and stories that come with it. We have been fortunate enough to have a few people pop in and tell us about how their family lived in the home at one time - and the stories that come along with that are so fun to hear.
"We want to be able to offer constantly changing and evolving beer options."
3. How did you get your start in the beer industry and what made you want to pursue Hello Brew Co.?
Ryan was a competitive homebrewer for many years, and eventually got a chance to work at a startup brewery in Northern California. While he was a homebrewer, the concept of "Hello" was developed out of putting "Hello My Name Is" stickers on beers that he shared with friends. Briefly, the love of creating beers and community is what motivated us to continue to build Hello Brew Co. into a physical taproom.
"Our unofficial motto is to be understated."
4. Which beer is your favorite one on tap?
This is a tough one to answer. We are taking a slightly different approach to our tap list in that we do not have a flagship beer, instead we are focused on our IPAs being a "one-and-done" - meaning, when we make an IPA it is on for a bit and when it is gone, it is gone. We want to be able to offer constantly changing and evolving beer options.
5. Your labels, design, merch, logo, are all beautifully simple, while your beers are so complex. Was this by design?
We find simple appealing; our unofficial motto is to be understated.
6. Do you have any fun events coming down the pipeline?
We have some concepts for fun events, but at the moment we are waiting to get some pieces in position before we make these ideas more public.
Go taste these soon-to-be-classic brews yourself: Hello Brew Co. is located at 405 Linden St, Fort Collins. Don't forget to also explore the other delicious drinks Fort Collins has to offer: book a Libations Tour at OldTownFoodTour.com!