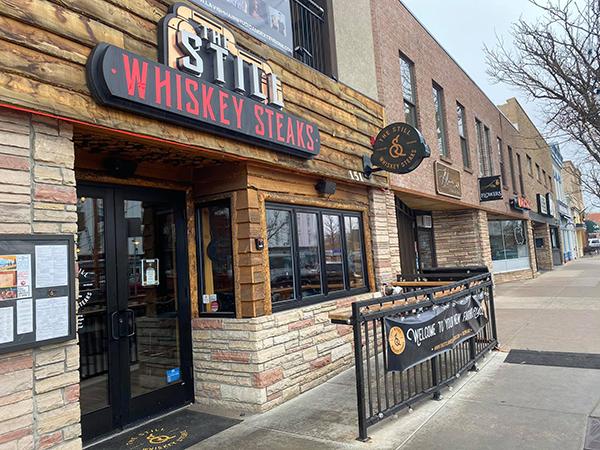 Steak and whiskey. It's the perfect dinner combination for adults after either a long day at work or while taking a night in around Old Town Fort Collins. The Still Whiskey Steaks, located at 151 North College Avenue, offers this and much more in an atmosphere that will make you feel like you're eating in a log cabin located in the mountains.
Not sure if you want steak for dinner that night? How about trying their Pan-Seared Salmon with a lemon cream sauce, artichoke hearts, roasted red pepper, asparagus, spinach, and caper orzo?
Or how about a Whiskey Steak Burger topped with mushrooms, swiss cheese, fried onion ring, and Still Whiskey Sauce?
No matter what you are craving, The Still Whiskey Steaks offers something for everyone of all ages in your family.
Old Town Food Tour's Justin Clapp had a chance to talk with The Still Whiskey Steaks owner Jeff Brown about what makes the restaurant unique in Fort Collins, their variety of whiskies to choose from, and how important their staff is to the customer experience. Don't forget to buy your Old Town Food Tour tickets so you can see for yourself why The Still is a fantastic example of why Fort Collins is a foodie's paradise!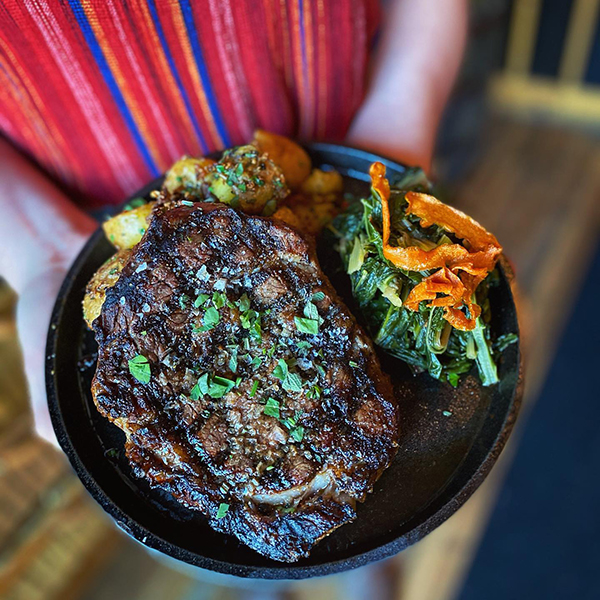 Tell us about The Still Whiskey Steaks and what inspired you to launch a few years ago?
I took over as the general manager in April of 2018 and the previous owner, Scott, gave me the green light to execute my vision for The Still. We changed a lot, but we knew we had a great concept and an even better group of people, so when Scott approached me about ownership, I reached out to my now partner TJ and we were able to put together an offer that Scott accepted. We took over ownership in December 2019.
What makes The Still unique from other restaurants in the area?
Our people. The employee experience at The Still is the thing we care most about. If we, as owners and leaders, take care of our team, they will take care of our guests. We have an incredibly talented team, but culture comes first. If someone on the team doesn't buy into our values and culture, they won't last long because nearly everyone here does, which we are very proud of.
The passion for whiskey is growing throughout the country, and The Still offers over 40 Colorado whiskies to choose from. Tell us about the whiskey selection and what people can expect when they look at that menu.
We definitely support our local, small distillery friends first and foremost. Not only because of the camaraderie we share but maybe, more importantly, they produce a fantastic product. Aside from local, we offer a mix of favorites, unique and hard-to-find whiskies.
Tell us about the support you've received from the Fort Collins community since you first opened, and how has that continued throughout the past year during the pandemic?
Our guests have grown with us on this journey, and it's been amazing to see a new, more diverse group of people in our restaurant as well as our beloved regulars. Especially this last year, our community has been amazing in their support of us. Whether it's been sitting on a patio in December, being patient as we pivoted from one thing to the next, or just sharing encouragement with our crew and us. We love being a contributing member of this community and look forward to continuing to be for a long time.
What are some of the most popular items on the menu at The Still?
Obviously whiskey and steak, but we are proud to have a well-rounded food and beverage selection, and with the release of our current menu, we think this is the best offering to date.
The Still Whiskey Steaks is also home to The Canteen, where customers can buy your food and cook it at home. They can also purchase whiskey from The Bottle Shop. What made you want to launch The Canteen?
The Canteen was started out of a combination of necessity and convenience. After dine-in had been shut down once already and capacity restrictions made it harder to make enough money to support our team and run a profitable business, we knew we needed to think outside the box (literally) and create a new way for guests to enjoy The Still without having to be inside our four walls. We also wanted to create a one-stop-shop so people didn't have to go to three different places to get what they needed.
Something people may not know is that you also offer catering. Tell us about the catering options you have and how someone can inquire about them.
Catering was something we had wanted to do, and the challenges of 2020 provided us the opportunity to get our catering department up and running. Our philosophy with catering is that we want to adjust our process to accommodate what the guest is envisioning and expecting. We have some set menus and easy options, but we love customizing experiences. We also pride ourselves on delivering restaurant-quality food outside our building.
We know it takes a team to put forth the fantastic atmosphere and food that The Still offers. How important and vital is the team to you and the product that The Still puts in front of customers each day?
As I mentioned earlier, our staff is what makes this place unique. Our leadership group has all been in the Hospitality industry for a long time and has been a part of many great groups, and we all agree that this is the best group of people we have ever worked with. Not only talented, experienced people but genuinely good people who care about our guests, each other, and the restaurant. We couldn't be more grateful for our team.
If someone is new to Fort Collins or visiting, why should The Still Whiskey Steaks be on their must-try list?
We feel like we are a great example of what Colorado is all about. We do high-end our own way. Our food, service, and atmosphere can hang with much larger markets, but we do it in a casual and enjoyable setting. We serve high-quality steaks and whiskey while listening to Chris Stapleton and Tyler Childers, wearing jeans, boots, and a flannel. We like to have fun and try to make sure our guests do too.
The Still Whiskey Steaks is key to the personality, the success, and the foodie scene of Old Town Fort Collins. You can try The Still and other premiere restaurants throughout Old Town by participating in an Old Town Food Tour! We offer a 2 1/2 - 3 hour guided walking tour of some of the best restaurants that the city has to offer. Tickets are available now as we look forward to re-engaging the local community, and introducing visitors, to one of the best food scenes in the country!