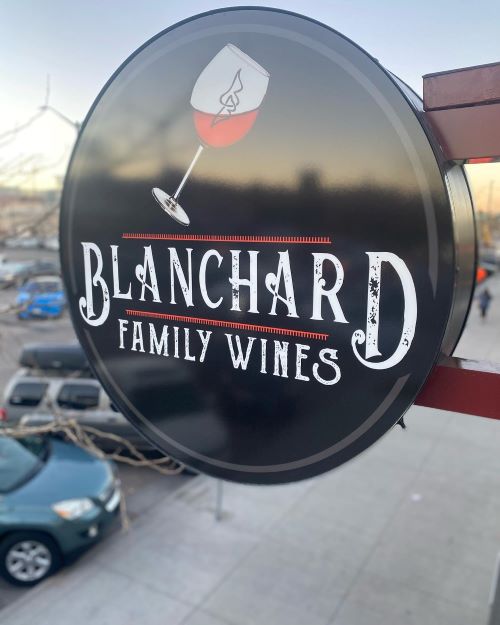 While Fort Collins is known as the "Napa Valley of Beers" and has had a growing distillery experience throughout the city, the wine scene is one that has largely went untapped. However, Blanchard Family Wines will be changing that, with their location that opened at The Exchange in Old Town earlier this year.
Blanchard Family Wines, which also owns a location in Denver, focuses on offering wines by the flight, glass, or bottle. You can also be part of wine tastings, wine education, and pairing classes.
Old Town Food Tour had a chance to sit down with James Blanchard, co-owner of Blanchard Family Wines, to find out more about the location and what the community can expect to love when they stop by the location.
What is Blanchard Family Wines all about, and what can someone expect when they visit for the first time?
Blanchard Family Wines is a family-owned business, focused on creating great experiences around wine. When you visit our tasting room, you can expect a warm and inviting atmosphere, with smiling faces, ready to share a story with you and a glass of amazing wine.
What makes Blanchard Family Wines unique?
Blanchard Family Wines is rooted in both Colorado and California, so we feature top quality wines and education from both locations. Our California winery has been making wine for over 15 years, but we are extremely local-focused and support tons of the best Colorado wineries in the market.
How important has it been for Blanchard Family Wines to not only offer wines from Blanchard, but also independent wineries in Colorado?
This distinction is critical to what we do and our place in the Colorado wine community. We believe it is our mission to inform and educate the consumer about all the great wine that this state has to offer. Colorado is not just a beer state, and we aim to help change that mentality.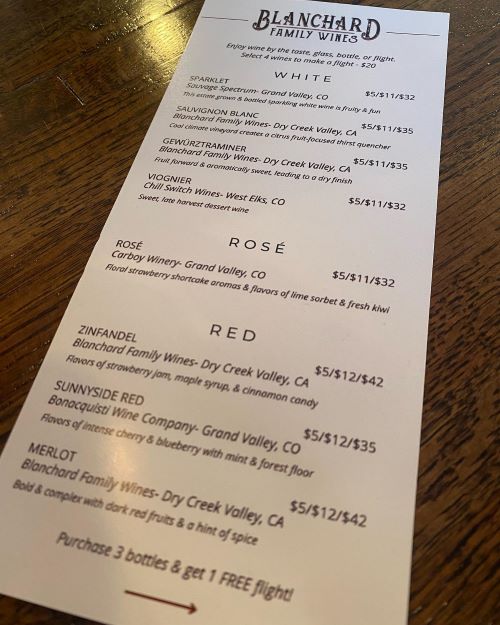 How has the community support been since Blanchard Family Wines launched earlier this fall?
Northern Colorado and Fort Collins specifically have such a great community and support of their local businesses. There is always some activity to bring people out into town, such as the Foodie Walk and Art Walk, parades and bar crawls, and seemingly dozens of activities around each holiday. It's been amazing the variety of events there are to get involved with.
Can you discuss the different wines that guests can experience when they visit? Do you have a rotating list or do you have a few regulars that guests can expect?
Our wine menu is constantly rotating, which is a great way for guests to learn about new wines every time they come in. We will generally have 8 wines, 4 from California and 4 from Colorado, as well as a few select hard ciders and non-alcoholic options on the menu. The Colorado wines are especially procured in small quantities, so they could be different each week. Wines can be ordered by the flight, or by the glass, to give guests the ability to enjoy themselves in the manner they choose. Joining our monthly wine club is a great way for regulars to come in frequently to try new things, while getting great discounts at the same time.
Blanchard Family Wines is the perfect spot for a date night or a night out with friends. What is it about the atmosphere that lends itself to this?
If you haven't been to The Exchange development, you need to check it out. This development is the type of collaborative, mixed-use development that we love to be a part of. There is a distillery, a brewery, multiple full-service and quick-service restaurants, an ice cream shop, and even mini-golf. You can grab tacos and ice cream and bring them up to our inside space to either get out of the elements, or to enjoy one of the best patios in Fort Collins during nice weather. We can find a wine paring for just about any meal in The Exchange, or you can just snack on one of our charcuterie platters or other rotating local snacks.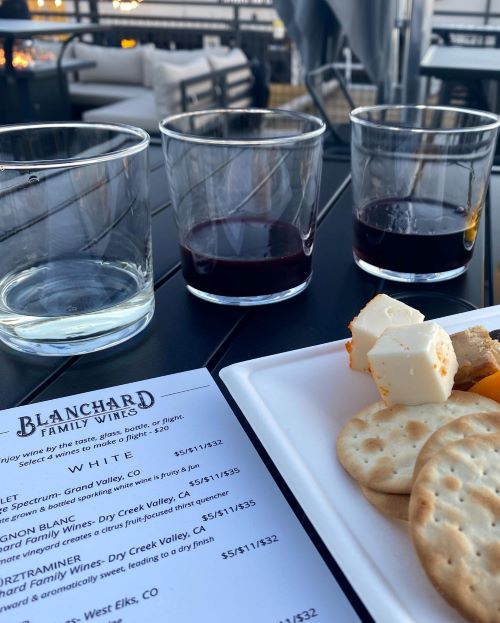 We know it takes a team to create the fantastic atmosphere that Blanchard Family Wines offers. We want to allow you to give props to your staff in this question. How vital is the team to the product that you put forth each day?
Our company was founded on the principals that you must start with fantastic wine. But wine isn't anything if it's not for the people behind the product and the people you share the product with. Our company was started by family, but has expanded to the point where our employees are our lifeblood. Without our team, we are just another nameless, faceless, bottle on a store shelf. Our team brings our stories and our wine to life and help break down some of the barriers and stigmas that force people to become intimidated by wine. Wine should be fun, and inviting, and should bring people together, and our staff does that every day.
If someone is new to Fort Collins or visiting, why should Blanchard Family Wines be on their must-try list?
Fort Collins has so many exciting and diverse offerings, it's hard to know where to even start. The food and beverage scene in Northern Colorado has expanded to become one of the best destinations in all of Colorado. But if you have to focus just one afternoon, The Exchange and Blanchard Family Wines is a great place to concentrate your efforts. With so many food and beverage options, you can't go wrong. When you are finally ready to slow down after a day of exploring this vibrant city, unwind with a glass of wine, share your stories with your family and friends, and create memories you will never forget with Blanchard Family Wines.
Blanchard Family Wines is open 1 - 9 p.m. Monday - Thursday, 1 p.m. - midnight on Friday, 11 a.m. - midnight Saturday, and 11 a.m. - 9 p.m. Sundays.