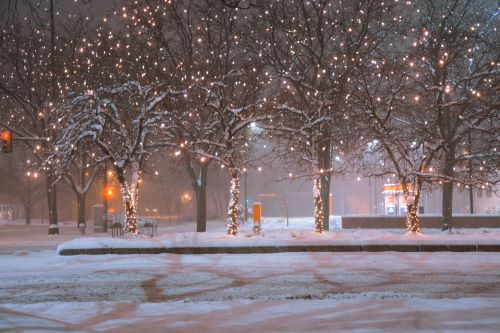 If you're looking for an exciting winter adventure, Fort Collins, Colorado has endless possibilities. With stunning natural scenery, historic landmarks, and an abundance of local culture, our version of a 'winter wonderland' offers something for everyone. In this week's blog, we'll share some of the best winter activities in the area for you to explore. So, bundle up and get ready to discover the magic of winter in Fort Collins!
Explore the Scenic Winter Trails
Winter in Fort Collins, Colorado is a delightful time for nature enthusiasts, offering a range of outdoor activities and breathtaking scenery. Here are some of the best ways to explore the winter trails:
Snowshoeing: Snowshoeing is a fun and easy way to explore the snowy trails. Whether you're a seasoned pro or a beginner, there are a bunch of snowshoeing trails available for all skill levels. Rent snowshoes from a local outdoor gear store and head out to Mineral Springs Gulch, Lory State Park or Horsetooth Mountain Open Space.

Skiing and Snowboarding: Hit the slopes and enjoy the fresh powder at resorts near Fort Collins. There is a wide range of skiing and snowboarding resorts available for you to experience, such as Eldora Mountain Resort in Nederland or Snowy Range Ski Area near Laramie, WY.

Ice Skating: Glide along the rink at the Old Town Square and experience an unforgettable ice skating experience in Fort Collins. Get some hot cocoa and snacks from nearby vendors and enjoy a relaxing afternoon on the ice.

Snowmobiling: For more thrilling winter sports, hop onto a snowmobile and explore the forests for a great adventure in the snow. Rent a snowmobile from nearby outfitters and explore the trails around the Red Feather Lakes or Cameron Pass.
Fort Collins is known for its picturesque winters but make sure to bundle up and bring your camera to capture the stunning scenery!
Experience the Local Culture and Festivals
For those looking to explore the winter culture scene in Fort Collins, there are plenty of options to choose from. One of the most popular winter events in the area is the Winter Farmers' Market that happens in Foothills Mall now through April. Visitors and locals can stock up on winter produce, handcrafted artisan goods, while also supporting our local businesses. They also will have extended hours on Saturday, December 9 and December 16 to help you finish your holiday shopping.
Another winter event that draws crowds is NoCo Winter Wonderland, presented by Colorado Youth Outdoors, happening November 23 - December 23. This family-friendly drive-thru holiday light event is now in it's 4th year and is a chance to spend time with friends and family while helping a local non-profit. Tickets go fast so make sure to purchase yours today.
If you're more into performing arts, then you're in luck, as Fort Collins is home to a range of winter performances and theatrical productions. The Lincoln Center hosts a number of productions throughout the year, with its winter lineup featuring a variety of shows from ballets to plays, and comedy shows.
Overall, Fort Collins offers a wide variety of cultural experiences and winter festivals for visitors and locals to enjoy. Whether you're interested in music, theater, or art, there's something for everyone!
Indulge in Craft Beer and Local Cuisine
Fort Collins is known as the Napa Valley of beer due to its variety and quantity of breweries. With over 20 breweries serving up their local craft beers throughout the year, visitors can indulge in their passion for brews while enjoying the beauty of the city in winter. When it comes to cuisine, Fort Collins has a diverse food scene with a multitude of local restaurants.
Craft Beer and Distilleries: Fort Collins boasts a range of local breweries such as Gilded Goat, Salt Road Brewing, New Belgium, Odell, Zwei Brewing, Envy Brewing, and more. Plus, many breweries have outdoor patios with heaters that are open during the winter months. If a locally distilled whiskey, rum, vodka, or more are what you are looking for, visit Mobb Mountain Distillers, Elevation 5003, Coppermuse Distillery, and more.
Local Cuisine: Fort Collins offers a range of dining options, with something to satisfy every craving. The city's proximity to farms and ranches makes it easy for local restaurants to source ingredients from nearby sources. If you're looking for an amazing steak with one of the best Old Fashioned's in town, make a reservation at The Still Whiskey Steaks.
If you're looking for a more casual dining experience and comfort food, check out Ginger & Baker, Coopersmith's, or Pour Brothers Community Tavern. If you're in the mood for a gluten-free meal with a cider drink accompanying it, check out Locust Cider.
Lastly, if you're looking for a spot to celebrate the holidays or to impress family, bring them to Jay's Bistro or Sonny Lubick's Steakhouse.
Want to try these restaurants in one afternoon? Book your reservation with Old Town Food Tour, a 3 hour guided walking tour around Old Town Fort Collins where you'll sample food from five different locations. You can book your reservation by clicking here.
Fort Collins is a great destination for foodies and beer lovers in the winter season. Try some of the local cuisine, indulge in a craft beer or two, and enjoy the city's cultural attractions and winter scenery. Don't forget to check out the Downtown Holiday Lights which run until Valentine's Day!